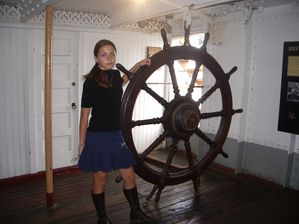 Each of the millions of emigrantions from Europe is its own dramatic story; these are stories of sadness and joy, of loss and discovery... of all that was left behind, and all that awaited, startled, and trans-formed. Each emigrant's new life in USA, Latin America, Australia, etc., from the day of his/her arrival, altered each of them forever. For the languages, cultures, customs, and materials of their new homes differed greatly from that they had known in the "Old Country."
This page contains part of the story of one 2nd generation Russia to NYC (New York City) immigrant Annie Cohen, a tale told by her nephew who learned of her existence 30 years after her death. Annie's existence had been kept secret by her parents and sister for 71 years, since the date she was sent away and hidden. During that 71 years, Annie, those that hid her, and those who cared for her, all died. So this is a story of discovery, beginning in 1995. [The book is entitled Annie's Ghosts, by Steve Luxenberg (2009 Hyperion Press, Nonfiction, incl. footnote pgs 365-387)]

Annie's family ↑
Excerpts

Pg. 15- [an unnamed overseer at the Michigan Department of Community Health]: "I get dozens of calls a month from people just like you... family members who have just discovered that they have a relative they never knew about... State law doesn't let me tell them anything... " Mr. Luxenberg, the author: "But she's been dead thirty years... I'm her next of kin." Overseer: "That doesn't matter. You'll need a court order." Mr. Luxenberg is persistent through 400 pages though, successfully "pursuing the secret that would ultimately lead me back to the beginn

ing of the 20th century, through Ellis Island to the crowded streets of Detroit's... immigrant communities, through the spectacular boom of the auto industry's early years and the crushing bust of the Depression, through the wartime revival that transformd the city

into the nation's Arsenal of Democracy, through the Holocaust that brought a relative to Detroit and into my mother's secret, through the postwar exodus that robbed the city's old neighborhoods of both population and prosperity."
Wherever you live in the world, you are likely to have emigrants who left Europe on your family tree. European Emigrant Heritage (EEH) stands ready to facilitate your securing the heritage of your family's past.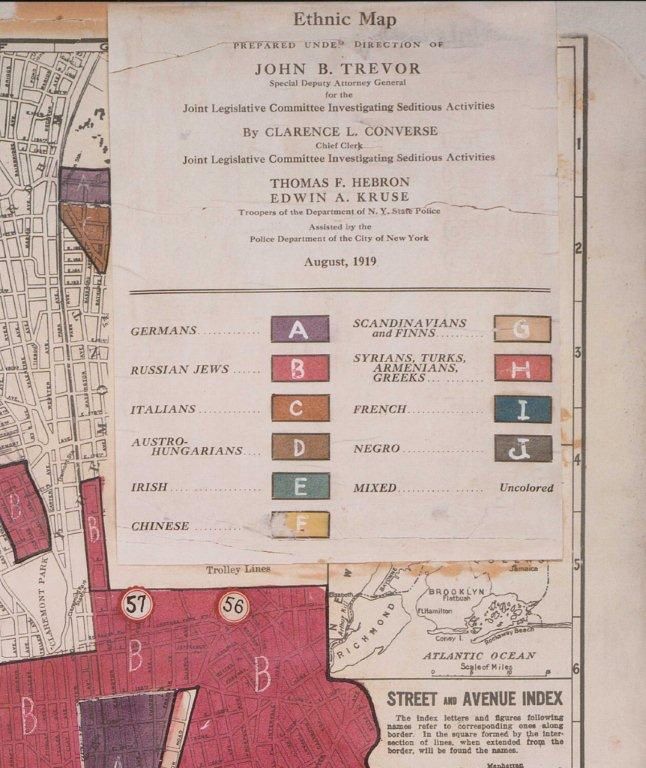 These map sections (not from Mr. Luxenberg's book) show the ethnic communities of Manhattan, NYC in 1919. The below section shows the parts of NYC's Lower East Side in red where Mr. Luxenberg's family lived during the first half of the 20th century (1900-1950).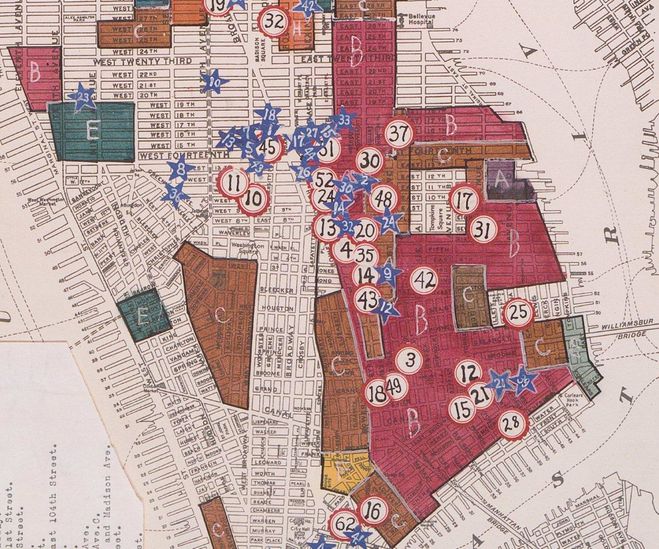 European Emigrant Heritage
______________________________________
Pottery the Old Way
The effect of modern technology on Europe's many diverse cultures is unfortunately negative. Though electrically-powered wheels are common today, many potters still prefer to throw on a human-powered wheel. Whether chosen for aesthetic purposes, out of a sense of traditionalism, or simply for exercise, these human-powered designs usually incorporate a heavy flywheel wh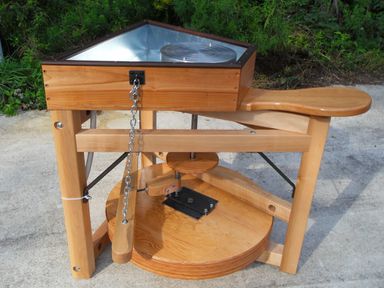 ich is brought up to speed, and kept there, by the operator's leg muscles. The simplest "kickwheel" is exactly that: the flywheel turns below the seated potter's feet and is kept in motion by repeatedly kicking its surface.

Named for studio potter Bernard Leach, the Leach treadle wheel was in fact de- signed by his sons. Bern- ard's grandson Simon is a renowned studio potter and teacher, still uses and promotes the treadle wheel design. They are expensive to buy, but the plans and designs are widely known and shared.

Potter Lloyd Cledwyn hosts a site dedicated to the Leach treadle wheel, including photos of an original wheel, a high resolution scan of some early blueprints, and some nice original assembly illustrations.

Simon Leach himself ha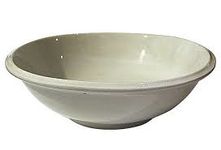 s published a large photo gallery meticulously documenting the construction of his newly-commissioned treadle wheels. Simon's YouTube channel is also a great source of information, and features several clips detailing the assembly, history, and operation of the Leach wheel.

Plenty of information is available, between and among the various other online resources, for potters who want to build a Leach wheel for themselves.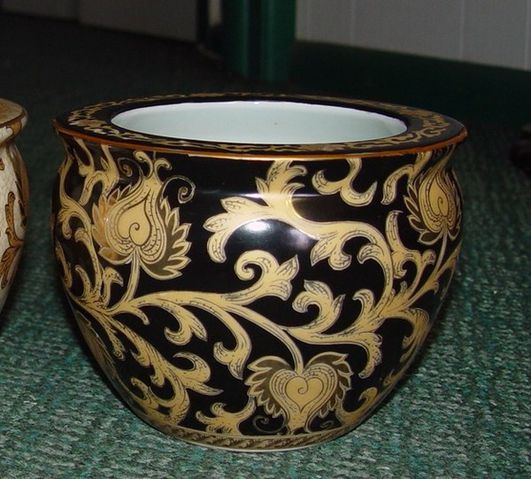 ______________________________________

Read this before clicking the below link. To avoid closing this European Emigrant Heritage website, right-click the link and choose "Open Link in New Tab". Notice that this gives you another tab at the very top left of your screen. The first tab is the EEH website, the next tab is the War of 1812 database.
War of 1812 Casualty Database
http://www.1812casualties.org/
Our cases usually don't need research as far back as 1812. When we research the War of 1812 records it is usually only to check the spelling of a name. The above database lists soldiers in British regiments of foot that were killed, died from disease, or deserted.
British terrorists (shown here) burned down the White House in August, 1814.

______________________________________
To enlarge the text of this website, in the upper right corner of your screen click

,

, or ⋮, [click View,] and Zoom to 150%.
_____________________________________


____________________________________
Frequently Asked Questions
Q: I know all my relatives and I have no inheritance from any of them.
A: Examples: If one of your ancestors or collateral relatives owned rental properties but didn't list them in his will, and some of the properties were unknown to his surviving family and were thus not probated, and ever since then the property has been inhabited by persons who have no legal right to it, would you know about it?
If a relative died many years ago and no surviving family could be found for him, who would have discovered your existence?
Q: Can I lose any money?
A: EEH's only fee is a percentages of what we actually recover for you. You never give us any money, so there is no way you can lose any money. In addition, we pay all research costs from our own funds, without reimbursement regardless of the outcome of the inheritance claim.
Q: I don't believe there are any assets out there for me.
A: The fact that EEH has risked its time and money should show you that there are such assets.
Q: Are there any guarantees?
A: EEH can give no guarantee that our attempt to recover your family's assets will be successful, because unforeseen circumstances may prevent it. For example, a person or persons more closely related to the original owner of the asset may be found. What we do guarantee it this: WE WILL DO THE BEST WE CAN TO PROVE, EXPEDITE, AND MAXIMIZE YOUR INHERITANCE, AND AT NO TIME WILL YOU BE REQUIRED TO INVEST A PENNY.
Q: What if the debts exceed the assets?
A: Let's suppose that the asset accruing to your family is a parcel of land worth €100.000. If the land is encumbered by a €25.000 mortgage and a €40.000 lien for back taxes, the net recovery would be €35.000, and EEH's percentage would be calculated only on that €35.000. Supposing however that the back taxes were €120.000, so that there is nothing to recover. In that event you would receive nothing, and EEH would receive its percentage of nothing, i.e., nothing. Part of the taxes would remain unpaid, but you wouldn't be responsible for paying them. One is not responsible for the debts of a deceased relative; debts are not inherited.

A Review by an Heir Client
They do asset and geneology research. I had a very big patent infringement case and visited them in DC to explore in depth the options for finding the next of kin for my deceased client, the inventnor. His probate had closed in NYC the year before with no one able to find any family for him, living or dead.The only reason I docked them a star is that they were too secretive about the work and sources, I'm the attorney and have a need to know in case the judge asks. they found common descendents of my clients great grandmother who were half second cousins twice removed. I was thus able to proceed with my patent infringement action and obtained a jury verdict in the seven figures.
Their stack of genealogical documents was almost two feet high the research on this case and it was organized meticulously.
Jack Williams Esq., New York City 2018

James runs into an old college buddy near the Capitol
Dear Kathy and Simon: 18 Nov 2016

... I often make an interesting proposal to the more cautious of our potential clients. I offer to explain our services to them in front of the fraud unit detectives of their city's police department. As an incurable fan of the old classic Detective Colombo (pictured above), I know that police detectives would probably welcome such an opportunity to sit around their own conference table sipping coffee while a prospective criminal explains his offering and answers questions. I am a bit saddened that, over the many years I have suggested this, no client has yet taken me up on it. Perhaps Kathy would be interested in this proposal?

I would like to explain something to Kathy that was not covered in our meeting in Connecticut. Kathy and her siblings were missing will beneficiaries for a short time in another case, some years ago. Kathy's paternal grandfather had left some money to Kathy's father, Kathy, and her siblings, in his will. Kathy's father and the children moved from Maine to Connecticut when the children were young, prior to the grandfather's death, following which no one had the address of them in Connecticut.
So Kathy's earlier inheritance was merely a "skip tracing" case. These cases are usually handled by private investigators, not by genealogy companies such as EEH. In that earlier case Kathy's name and lineage were known at the beginning, stated in her grandfather's will, and only her address was unknown. In the case from which Kathy now stands to inherit, the person from whom she may inherit did not know Kathy nor indeed did he/she know either of Kathy's parents. The amount of genealogical research completed to date exceeds a thousand hours and covers 5 generations and 3 countries. I personally spent many hours of difficult research on persons who were born in the 1800s, the vast majority of whom died without issue. All this work, and all the travel expenses, document purchase costs, remote hired researchers, etc., EEH has invested without being asked or compensated by any person or entity, as a financial speculation. We worked hundreds of hours before even discovering Kathy's great grandparents names, then her grandparents names, and on down to her. Thus she should understand the substantial dissimilarities between her earlier inheritance and this one.
This inheritance is much larger than her former inheritance, otherwise we would not be putting such an effort into it. EEH has obtained signatures from the last of the Midlands heirs yesterday in Staffordshire. It is my hope that Kathy will decide to participate in this entirely risk-free inheritance.
Sincerely, James Hannum, EEH
EEH received no reply to the above letter. The case distributed its funds and Kathy was not included in the inheritance.

______________________________________



The Library of Congress, Washington DC is open to the public
_______________________________________________________
EEH Website Contents - Click to go
Published by European Emigrant Heritage