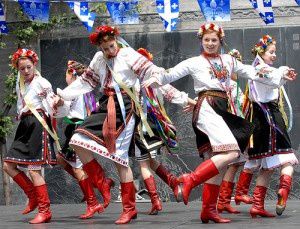 Ukrainian folk dance originated as a male dance among the Zaporozhian Cossaks but later danced by couples, male soloists, and mixed groups of dancers. In western Ukraine, as the hopak-kolo, it is danced in a closed circle. The hopak has no fixed pattern of steps. Men competitively improvise steps, high leaps, squatting kicks, and turns; women dance simple steps, sway, clap, or circle.


Click below to watch the dancing of the Tyrol, Austria:

_____________________________________

Huguette CLARK 1907-2011
It is unlikely the estate from which you may inherit is as gigantic in size as that of billionaire heiress Huguette Clark. The below story is included here to show that people don't know all the inheritances to which they are entitled.
Man who Didn't Know he was Millionaire is Found Dead Before he could be Told about his Fortune:
Body of heir to $300m discovered frozen to death
under railway bridge
By James Nye, London Daily Mail, 30 Nov 2012
A long-lost relative of the reclusive and eccentric New York heiress Huguette Clark, who stood to inherit $19 million of her $300 million fortune has been found dead from hypothermia in rural Wyoming.
Wealthy: Huguette Clark left an estate valued at
$306.5 million when she died last year
Timothy Henry Gray's body was discovered by children sledding under a Union Pacific Railroad overpass in Evanston, Wyoming on Thursday, as the temperatures hit 10 degrees.
Gray, 60, was the great-nephew of Clark, who died in May 2011 aged 104, and tragically was unaware that he was entitled to 6.25 percent of her copper mining fortune. This 6.25 percent has been conservatively estimated at £307 million by the administrator of her estate.
He added that it wasn't clear if Gray was living under the overpass at the time of his death, however, other homeless people have been known to camp there during the year...
Tim Gray was by adoption a great-grandson of former U.S. Senator William Andrews Clark, who made his reputation as one of the copper kings of Montana, who also diversified into banking, building, railroads and reserves special fame as a founder of Las Vegas...
The impressive senator's youngest daughter lived as a recluse in New York City hospitals for 20 years until her death in 2011 while her palatial properties across the country sat unused.
One valuable item in Miss Clark's estate is 'Bellosguardo', a $24.5 million
mansion which she had not visited since the 1950s.
Huguette and her father, U.S. Senator William A. Clark,
at the Easter Parade in New York.

"I knew Mrs. Clark as a kind and generous person, with whom I shared many wonderful moments and whom I loved very much." said her nurse...
[End of newspaper article]
The above Timothy Gray could have met his wealthy relative, because they were alive during the same time period. Unfortunately they lived in different states, in different social classes, and different generations.

If Timothy had been approached by EEH regarding an unknown inheritance, he might have replied as many people do, "I know all my relatives and none of them left me money." This would be wrong on two accounts: 1.) Timothy, like everyone, does not "know all his relatives." People know only their close relatives, and only a few of their deceased relatives. 2.) Timothy's relative Huguette did not "leave him money." Instead she died without a will and he was one of her legal heirs.

In most of EEH's cases all the original heirs are deceased and we are looking for their descendants. These original heirs, like Timothy, died without ever knowing about the inheritance that should have gone to them.
Huguette was Timothy's Great Aunt (4th row over, second from the top). Most of Huguette's relatives, occupying the above boxes, probably never heard of her.

Do you know much about your great aunts and great uncles? Do you know what they owned, or if they left a will?

Published by European Emigrant Heritage